Join Us on the Leading Edge
Americans are suffering with health issues right now —at staggering rates.
Integrative Medicine Practitioners are stepping up to the plate to help them. Frankly, from Bales Photonics perspective — they are the true heroes. And, people are craving truth these days!
However, we are hearing from the field, that these Integrative Medicine Practitioners are literally reporting burn out from these substantially increased patient loads.
BIOENERENGY Medicine is leading the way in offering powerful support to these overwhelmed Practitioners
The good news is that engineering innovators and inventors are coming out from behind the scenes to offer the technology that is needed to meet their patient's needs. Bales Photonics, Inc. is no exception. In fact, they are leading the way and have been — for more than 25 years.
 Our Bales Photonics' Practitioners can't believe just how astonishing the outcomes have been. Are you ready to tackle neurocognitive decline and gut pathogens head-on in your practice? With symptom relief and resolution at astonishing rates? Look no further than Firefly.  These are the type of results you just have to hear directly, for yourself. Your colleagues and several of their patients are ready to share their experiences with you!  Click the video below to hear their stories firsthand.
For more information or to discuss adding the Firefly Clinic Pro to your practice contact our National Sales Director, Lori Tran at (307) 256-0508 or lori@balesphotonics.com
Firefly Facts
The Power: 37,710 milliwatts of maximum output power to be exact–at or above any Class IV laser
The Permeation Depth: Firefly penetrates up to 8″ into the body
It's Multi-Spectral: 8 different wavelengths can be used in any combination
It's Programmable: Combine the Firefly Clinic Pro with the F-Scan to pinpoint pathogens and potentially eliminate them
It's Affordable: We want Firefly Light Therapy in every Functional and Integrative clinic so we're keeping the price very competitive to any comparable device (and there truly isn't any comparable device)
Long overdue —and its time has come.
Bioenergy medicine devices have been blocked by the "powers-that-be" for over a century. (Most of you know the stories of what happened with Royal Rife and Nikola Tesla.) The fact is, those "powers-that-be" can't hold their ground anymore. And, as the market floods with new photobiomodulation devices, due to the great demand, it is becoming more evident by the day, that this technology's time has indeed arrived. 
Bales Photonics Inc. is a leader in this movement.
As with any popular trend, now that the word is out about photobiomodulation devices …light frequency devices are flooding the market. But let's be clear here: Bales Photonics is not the "new kid on the block." They are absolutely one of the pioneer companies in the United States with photobiomodulation technology.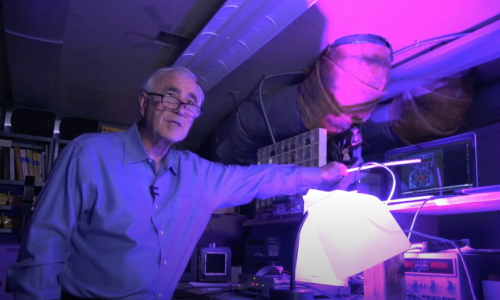 Maurice Bales worked at NASA in the 1970s designing spectrometer equipment for evaluation of the space shuttle tiles
Invented the all-digital Infrared camera in 1979 for medical & industrial applications
Created Infrared-based turbine blade testing equipment in the early to mid-1990s
Fast forward to 1998, invented first FDA approved Photobiomodulation device, the Bales Photonic Stimulator
Yes, the time has come for these long held-back advanced biomedicine technologies to be brought out. And at long last, be put into the hands of Integrative Medicine Practitioners, just like you. And that is what the Bales have so boldly accomplished now by introducing the Firefly Clinic Pro worldwide.
Dr. Martin Bales is the one that paved the way with peer reviewed results, as the Bioenergy Medicine Specialist at The Center for New Medicine, in Irvine, California, for thirteen years.
Meet the Doctor leading the way
Doctor of Acupuncture & Oriental Medicine and Firefly Therapy Developer
Martin grew up working alongside his father, Maurice, at Bales Scientific, Inc., who developed the first digital Infrared camera and the first Photonic Stimulator to be approved by the FDA. The photo on the right is an infrared image of Martin at age 4 taken with the camera his father developed.
After graduating from the University of Virginia with a degree in Electrical Engineering, Martin pursued another educational path and achieved a Doctorate of Acupuncture and Oriental Medicine. Fusing both backgrounds, Martin formed Bales Photonics, Inc. developing the previous BioPhoton 100 and latest Firefly models which use different wavelengths of light and frequencies to promote healing. Our latest custom designed LED chip increases the maximum output power from 8,900 mW to 37,700 mW (resulting in 4x the power!). This allows for much quicker treatment (reduced from 15 mins to 5 mins per area) and greater penetration depth.
Martin's vision is to bring light therapy to the masses via the availability of a powerful, effective, and affordable product line. With our Home and Clinic Pro Firefly models, Martin believes he has begun this journey. At a time when sickness and disease are at epidemic levels, Firefly Multi-Spectral Light Therapy can help address a multitude of diseases from pain and dysfunction to possibly reversing cognitive decline, all without synthetic toxins. Firefly light therapy truly is part of the future of medicine.
Designed for Ease-of Use
Unlike other photobiomodulation devices that have a steep learning curve, our Firefly system is designed to be easy-to-master. With our multi-session online training and a personal one-on-one live Zoom training session (included with your purchase) …you'll be an expert in no time.  
You'll be invited
When you become a part of our rapidly expanding Firefly Family of practitioners, you will see fellow practitioners show their case studies and share their findings in our monthly live meetings – and you will discover that all of those past sessions are accessible through our Practitioner Portal for you to review at your own convenience, 24/7. Our knowledge base is always growing, ensuring that you stay on the cutting edge of bioenergy medicine. We also offer unlimited support to our customers who are dedicated to providing the best care for their patients.  
Ready for a revolutionary approach to providing your patients with this amazing technology?
For more information or to discuss adding the Firefly Clinic Pro to your practice contact our National Sales Director, Lori Tran at (307) 256-0508 or lori@balesphotonics.com
Click the video below to view our full Firefly documentary.